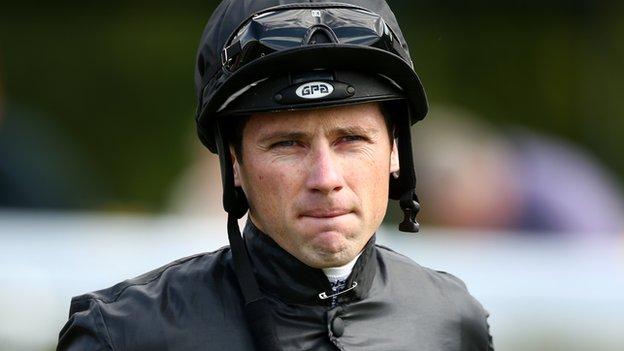 A visit to the toilet by jockey Stevie Donohoe at Ascot proved an expensive one when he weighed in two pounds lighter than he was before the race.
Donohoe finished fourth in Wednesday's Pavilion Stakes on Fighting Irish.
He was banned for three days after explaining to the stewards that he had been to the bathroom after the weighing out procedure.
The rider lost his share of the prize money for fourth – about £300 – as his mount was disqualified.
Invincible Army, ridden by Ryan Moore for trainer James Tate, was an impressive winner of the race,
A notice from the Ascot stewards said: "The clerk of the scales objected to Fighting Irish, placed fourth, ridden by Stevie Donohoe and trained by Harry Dunlop, on the grounds of the rider weighing in at 9st 3lbs having weighed out at 9st 5lbs.
"Fighting Irish was disqualified and the placings were revised. The rider, the trainer and the clerk of the scales were interviewed. Donohoe was suspended for three days as, having weighed out early, shaved and used the bathroom, he had weighed in 2lb lighter than which he weighed out."